The biggest lesson is that color blocking isn't an excuse to pull random, colorful garments out of your closet. "I don't do more than three colors" Don't go overboard or try too hard. When they get into the four and five bright colors, you start to look like a 1980s video game, you start to look almost clownish If you want to stand out in a crowd, people are going to see you right away. You'll probably get lots of compliments if you do it correctly.
For an adventurous fashionista, colorblocking allows you to show your fashion skills, especially when it comes to pulling together colorful separates, new or ones you already own. If you're a colorblock newbie, stick to color blocking a blouse and a jacket… sooner your combination skills will develop once you take the right first step ;)
Still How to Color Block Pink:
 Pink looks great with many colors in the blocking scheme. Some super & safe choices are red, purple and coral. Neutral accents break up the brightness. If you're looking to stand out in a crowd, opt for yellow!

How to Color Block Orange:
 Orange is great with purple, white and green. If you're looking for less of a Spring look, go for brown or red If you want to rock the 60′s Twiggy look, go for baby blue)

How to Color Block Blue:
 Baby blue and electric coming out on top. Each of these work great mixed together. Accents of metallic, purple, yellow, emerald green and charcoal offset the look.

How to Color Block Yellow:
Yellow presented itself on the runway in hues from bright to muted. Warning: Do not attempt a color block with dark mustard yellow, you will certainly fail terribly. Color block Spring's yellows with teal ( killer look), pink and green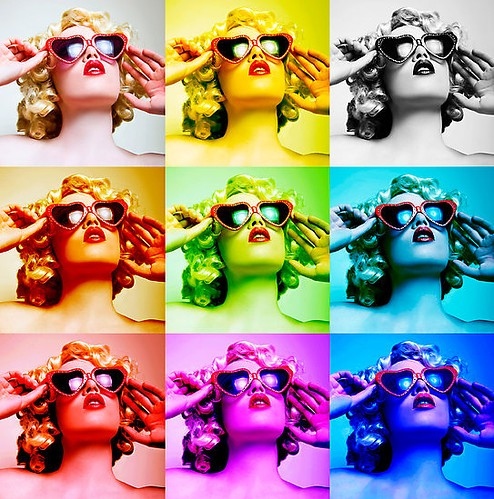 Also, remember that neutral doesn't have to mean nude. Use white, grey, brown and black to hold your outfit together. And an easy way to make sure you get the trend right, even without a neutral? Stick with different hues of the same color. Sky blue, cobalt and navy look great, while pale pink, bright pink and fuchsia do as well.
Having a tough time figuring out what to pair with what?
Here are some more hues that go great together:
1. Cobalt Blue, Yellow, Orange
2. Chocolate Brown, Pink, Peach
3. Purple, Bright Blue, Teal
4. Deep Blue, Bright Pink, White
5. Coral, Grey, Ivory